About Us

Indian Dairy Industry is one of the largest contributors in uplifting country's economy. The increasing need of dairy products increases the demand of healthy and fit cattle, to meet which, various trading companies are stepping in. To fulfill this increasing demand, we, Sahiwal Dairy Farm also have came into existence as a supplier and trader of Heifer Cattle, Sahiwal Cow, Red Sahiwal Cow, Desi Sahiwal Cow, Desi Sahiwal Calf, etc. Properly vaccinated cattle, with large milk producing capacity are offered by us to dairy farms. Our company is highly moral and this is well-depicted in the way business deals are carried out that is transparent. Swift deliveries and customers focused approaches makes us excellent partners to clients.
Home to Cattle
It wouldn't be wrong if we call ourselves a perfect home to cattle because we give extra attention to our cattle. We nurture them with care so as to provide the buyers, healthy and medically fit cattle of various varieties. Till these are not supplied, we keep them in large shed place where all needed things are well kept for complete convenience. This open shed area is outfitted with big sized tanks of water. Our team of experts as per the prescribed diet, feed cattle at regular intervals of time and take care of their vaccination.
Reasons to Keep Faith in Us
Timely Deliveries- We have established associations with trusted transporting agencies which aid us in delivering cattle to the buyers.
Ethical Business- Clarity in business deals is maintained by us . We keep informed our valued patrons about modifications in delivering schedules and other business operations.
Smooth Trading Practices- To buyers, through the reliable medium of diverse channel dealers, we supply medically fit cattle. The process of supply chain management is smoothly carried out by us.
Flexibility in Payment- We accept payment through both online and offline modes.

A Name to Trust

We are working in this business field from a very long time. It has been almost 32 years to our existence and we have fully enjoyed every year of our business journey. The reasons of enjoyment have been increased profits, large client-base and extended trading network. All this continues in the present time also as we have maintained our business ethics same as they were in the past years. We are a name to trust because the quality and cattle we provide no other supplier will offer. Here at our company, we fulfill promises made to the customers on daily basis because their happiness matters to us the most.
"We mainly deals in bulk order."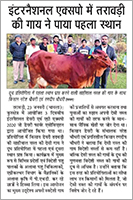 Read More