Brown Sahiwal Cow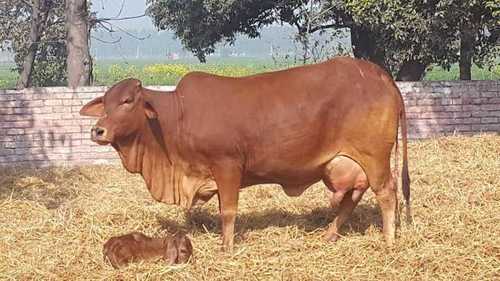 Brown Sahiwal Cow
Product Description
We are supplying premium and hygienic Brown Sahiwal Cow at suitable price to satisfied the requirements of consumers.Though, it is absolutely fit and strong and do not have any cattle diseases. Also, it has brown color, short size and age is about 38-47 months. Brown Sahiwal Cow required nourishment and proper care with balanced diet like fresh grass, wet and dry fodder,corn and grass silage. It is a good milk producer as it provides 8-9 kg milk per day.
FAQs
How do you take care of a Sahiwal cow?
It is energetically prescribed to the cows are nibbled rotationally in the enclosures as this gives the grasses time to regrow. Minerals and Water are likewise vital to the Sahiwal Dairy Breed steers. The Sahiwal saved for milk creation can be connected with a protein vegetable and concentrate for a superior milk creation.
Is Sahiwal a hybrid?
Sahiwal steers is a type of zebu cow, named after a region in the Punjab, Pakistan. The cows is essentially tracked down in Punjab territory of Pakistan, and Indian provinces of Punjab, Haryana, and Rajasthan. Sahiwal is viewed as an intensity lenient dairy cattle breed.